Communications minister Michelle Rowland has dismissed calls for the ABC to relocate from its Ultimo offices and opened the door to a sweeping review of the nation's broadcasting sector.
In a wide-ranging interview with The Sydney Morning Herald and The Age, Rowland ruled out any move of the public broadcaster from its inner city offices in Sydney and Melbourne and revealed she is considering a thorough review of the 30-year-old legislation that governs the broadcasting sector in a concerted effort to make federal policy apply to an era where social media and streaming is prevalent.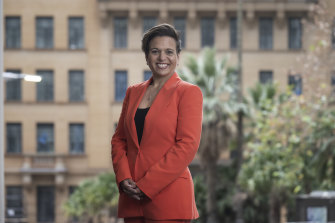 "The key issue here is that we still have an analog environment for the digital age," Rowland said. "We've got a Broadcasting Services Act that's dated 1992. I even said in 2017 that we hadn't had a proper review of the media landscape since the Productivity Commission in 2000. The government at the time said all the facts were known. They were not known. There is a very strong argument for review."
The Broadcasting Services Act is a 30-year-old piece of legislation lays out the regulatory environment for legacy television and radio industries and contains provisions for parts of the internet. It was updated in 2017 under former communications minister Mitch Fifield, who passed a bill to relax media ownership laws, change local programming obligations and remove television and radio licence fees.
The inner-city location of the ABC's headquarters was a major point of tension between the public broadcaster and Rowland's predecessor, Paul Fletcher. But Rowland said the ABC is currently fulfilling its charter obligations and did not need to be moved.
"Even during the pandemic and during lockdowns, I note [the ABC] had important news reporting coming from Western Sydney and from Parramatta in particular," Rowland said. "The ABC has recognised that its charter includes a requirement to be reflective of all Australians. That has been done, as I see it, not with a view to cost-cutting which was essentially the minister's impetus, but a desire to fulfil their charter obligations."
Rowland's comments were made as the government begins a feasibility study into whether to relocate multicultural broadcaster SBS to Western Sydney, a move which is expected to be highly competitive among local councils that want to build a multipurpose space for diverse communities.
The newly appointed minister, who grew up in Blacktown and is the MP for Greenway, said the move was a "policy priority" for the new government (it initially pledged to conduct a feasibility study into the relocation back in 2019 under former opposition leader Bill Shorten).
"It isn't only about moving from Artarmon to Western Sydney, it's about the long term whether there is long-term viability in that," she said. "If that feasibility study is positive, ultimately it will be a decision for the board of SBS about whether they move."