A woman who smoked cannabis and then crashed her car, killing her sister and brother-in-law, has escaped prison after a judge ruled sending her to prison would be too harmful to her daughter, who was also injured in the accident.
Amberly Hendy, 31, pleaded guilty to dangerous driving on the Goulburn Valley Highway on September 6, 2019, after smoking cannabis that morning with her sister, Eloise Rigby, 23, and Rigby's husband, Adam Boland, 39, that morning.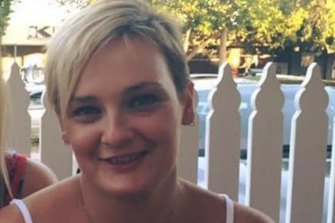 Rigby and Boland were killed in the crash, while Hendy's four-year-old daughter was seriously injured, required CPR at the scene and spent more than three months in hospital.
Hendy, from Katunga, 45 kilometers north of Shepparton, appeared via video link in Melbourne County Court on Thursday and was sentenced to 400 unpaid hours of community service and a four-year sentence of community correction.
District Judge Liz Gaynor agreed with prosecutors that Hendy's daughter's extreme dependence on her mother meant it would be inhumane to send her to prison, although such charges usually carried prison terms.
"The prosecution accepts that if you were imprisoned and unable to care for her, the effect on your daughter would be so disastrous that the legal threshold of exceptional hardship has been reached," Judge Gaynor ruled.
"I agree it's one of those rare cases.
"As has been said many times by courts, there must always be a place in the conviction for the exercise of mercy … I am convinced that your daughter's situation means that this is one of those cases."
Judge Gaynor also found that the court could not be sure of the role her cannabis use played in the car accident.