Regina's Brianna LaPlante, a native artist, has lent her creativity to the newly renovated basketball courts in Regent Park.
Article content
Brianna LaPlante often draws on life experiences as she pursues her passion for art.
Article content
Think of the fusion of culture and creativity that led her to design the reimagined basketball courts — known as The Yard — in Regent Park, just five blocks from where she grew up.
Article content
"And my best friend, Savannah, lived five blocks away in the other direction," LaPlante notes. "That was kind of our central meeting point when it came to hanging out.
"We have so many little memories of our time spent there. I didn't realize it meant so much to me. Making the mural gave me closure in a way, because it had so much to do with my teenage or Young Women years. Now I'm just entering my adulthood."
LaPlante, 23, is in her fourth year pursuing a fine arts degree from First Nations University of Canada.
Previously, she attended Thom Collegiate and played basketball for the iconic high school team, the Trojans.
Article content
Although she no longer plays the sport on a competitive level, in some ways the link to basketball is stronger than ever.
That became clear in September at the unveiling of The Yard. It is part of the Buckets & Borders initiative, which is designed to improve communities and bring people together.
The scope of the program goes beyond just restoring old outdoor basketball courts. There is an accompanying emphasis on aesthetics, leading to the involvement and celebration of artists such as LaPlante.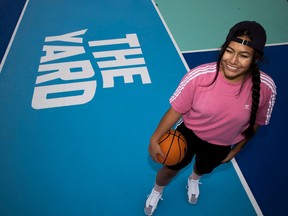 Buckets & Borders issued a call for artists earlier this year, with a deadline for submission of July 22. LaPlante's application quickly impressed members of the review committee.
"Brianna quickly became part of the Buckets & Borders team," says co-founder Justin Lee. "Her passion for both art and basketball made her the perfect fit to be part of the project as the chosen artist.
Article content
"Brianna's artistic skill coupled with her love of basketball and understanding of the game enabled her to create not only a beautiful work of art, but one that seamlessly reflects how the game is played.
"We are thrilled and grateful that Brii is part of the Buckets & Borders team and proud of the incredible work she has done. The Yard wouldn't be the same without Brianna LaPlante.
"Honestly, at the end of the day, we were just lucky to have someone who has such a deep love for the arts, basketball, and her community."
LaPlante is just as proud of the association.
"When I signed up with Buckets & Borders and their court restoration for my home community, I liked the idea that people could literally experience my art through the curves and lines I chose," she says.
Article content
"The reason I positioned those certain circles and flowers where they are is because it's actually practice. It's so ingrained in me.
"In high school, many people don't cut back very much. They basically just go straight to the basket because that's the goal. But these lines are positioned so that if you followed them they would be your big deep cuts or big round cuts.
"I was really thinking about what it would be like to deal with the lines in the artwork."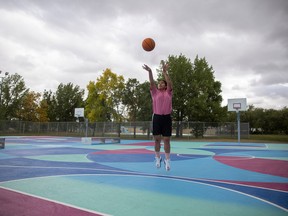 This particular piece of art differs from perspective in that it is not displayed on a wall or in a gallery. It is a giant canvas that can be walked on.
"I wish I were 10 feet tall," LaPlante says with a laugh, "so I could have a better view."
So much of what she does reflects the point of view she has acquired so far in her young life, with an emphasis on her Anishinaable/Nehihaw/Michif heritage.
Article content
Thinking about that trip takes her back to when she was a young girl, when she took a picture of her aunt's dog.
"I remember asking my aunt for an eraser," says LaPlante. "Aunt Jena said, 'Okay, please,' and then I said, 'When I grow up, I'm going to fix all my mistakes.'
"That was pretty much the first in-depth story. That's when I first started drawing."
And she hasn't stopped.
"When I'm in the middle of the process, I really enjoy being on that role where nothing else exists," says LaPlante.
"Life is too short not to do what I love, and what I love is art. I get into a trance or zone when it comes to making my marks on a paper. Drawing is so expressive, that's why drawing is one of my main techniques. I feel like I'm in my element."
Article content
She would like to stay there.
"I really want to keep meeting people," says LaPlante. "At the same time as meeting people, I want to maintain relationships through sports, through art.
"This is a great intersection experience for me as someone who wears many hats because it brings a lot of people together. So in a way, I want art to take me to those places that continue to bring my people together.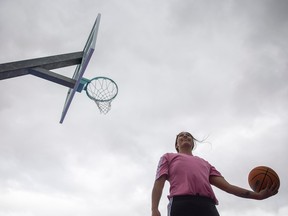 An accompanying goal is to pursue education and embrace the arts after completing her first university degree. A longer-term goal is to pursue a master's degree and eventually teach.
"I will never stop learning for the rest of my life," says LaPlante. "I think lifelong learning means that I also want to be a teacher for life."
Article content
Would it make sense that she would want to become an art teacher?
"I hope so," she replies. "I just want to pass on what I'm good at, because I started somewhere with people who took time for me.
"Art is so inextricably linked to indigenous culture. I feel this way about my art. I never really woke up and decided 'I want to be an artist'. I always drew. I always emulated what I saw in front of me. I emulated what I wanted to see in front of me.
"There was no 'aha!' moment. It was always a part of my life."
And it always will be.
rvanstone@postmedia.com
The world of sports is constantly changing, as are the times. Supplement your regular diet of sports coverage by subscribing to the Regina Leader Posts 306 Sports fix newsletter. Each week, Sports Editor Rob Vanstone will provide additional commentary on the Roughriders, Pats and other teams/sports of interest, along with a behind-the-scenes look. Click here to subscribe.
Buckets & Borders is seeking potential donors for Lakeview Project

First Nations University Unveils New Tech Skills Partner Program