The money will be used to bolster the staffing of regional detachments and fund special RCMP units.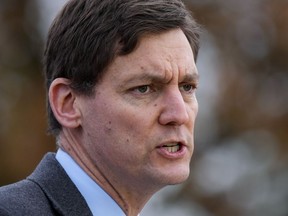 Article content
The provincial government will spend an additional $230 million over the next three years for BC RCMP services as part of its public safety plan.
Article content
On Wednesday, BC Prime Minister David Eby and Public Security Secretary Mike Farnworth said the money would be used in part to fill staff shortages at RCMP detachments in communities of fewer than 5,000 people.
Article content
This would allow provincially funded RCMP units to reach their authorized staffing level of 2,602 officers.
The money will also be used to hire additional officers in specialized units such as the Major Crimes Unit, the Child Sexual Exploitation Unit and the BC Highway Patrol – as well as help prosecutors and probation officers better apprehend violent, high-risk offenders manage.
"The funding will ensure an adequate and effective level of policing and law enforcement across the province, particularly in rural, remote and indigenous communities, and across a wide variety of specialized teams that investigate and prevent complex violent and organized crimes," it said. Eby.
Article content
Farnworth said planning for this spending increase had taken two years.
"Continued core funding will provide a strong foundation for police resources, enabling police to focus on violent crimes and other pressing public safety issues, while also taking action to implement the Safer Communities Action Plan and other public safety initiatives," said he.
"Strengthening these units will improve public safety by increasing the overall capacity of homicide and missing persons investigations when foul play is suspected, and by deterring the causes of motor vehicle fatalities, including speeding, distracted driving and restraints. ."
The money will go towards paying the RCMP to train an additional 277 officers to fill vacancies.
Article content
Some will also address the Cullen Commission's anti-money laundering recommendations.
Eby said BC could afford these additional RCMP expenses because the provincial economy was so strong.
Following the announcement, BC Liberal leader Kevin Falcon said his party had been asking the BC NDP for several years to increase the RCMP's headcount.
"The BC Liberals have called for funding for 200 vacant RCMP positions and yet the NDP has been scrambling to fund one," said Falcon.
"Every day that those positions have gone unfunded is a day that British Columbians face serious public safety concerns."