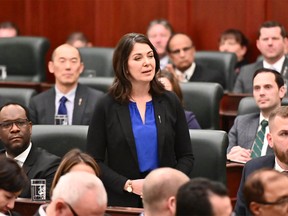 Article content
This is the big one.
Article content
Prime Minister Danielle Smith's first brainwave of a bill is now out of the chute, the ticket she rode to UCP leadership and the grand job of running the county.
Article content
In the fight to become UCP numero uno, the vein-wrenching people angry at the Trudeau administration loved the idea of ​​someone promising to go to war with Ottawa if and when they needed to, and they had a laundry list of supplies.
The Sovereignty Act, officially known as the Alberta Sovereignty within a United Canada Act, in case you thought Smith was pushing separatism through stealth, hit the ground running with a bang and promises to bring a donnybrook to the floor of the legislature.
The opposition NDP has already voted against it once and the ink is not even dry on the paper.
Smith's own supporters seem happy, happy, happy, happier than a camel on hump day, so happy they're even willing to take a day off from calling me a leftist waste of skin who should retire immediately.
Article content
This sovereignty thing is red meat for Smith's backers, a political ribeye served almost raw.
Smith sees the Sovereignty Act as a line in the sand where Alberta will have a shield against any Ottawa law or policy that is considered unconstitutional or harmful by the majority of members of the legislature.
They would not enforce those laws or policies.
Yes, under this law, the Alberta government can push back against constitutional federal laws or policies if the majority of provincial politicians say so.
Smith's UCP has a majority.
Once the majority gives the thumbs up and the middle finger to go toe-to-toe with Ottawa, it's off to the races and Smith's inner circle, her cabinet, has free rein and can change laws and issue marching orders to all sorts of outfits that get provincial dollars.
Article content
Police, universities and colleges, school boards, local authorities, a regional health authority.
The list goes on. Smith is serious. The Smith government says it has a clear mandate.
Smith and her administration say what they are doing "is likely to be found constitutional".
Smith has instructed her cabinet to come up with possible applications of the Sovereignty Act in time for her to throw off the gauntlet in the spring.
The pushback could be about a problem in the oil spill or in agriculture or healthcare or education or social programs or…
Yes, which they talk about a lot these days. Firearms. And other actions by Ottawa seen as violations of Albertans' Charter rights.
Smith introduces flagship Alberta Sovereignty Within a United Canada Act, giving the cabinet new powers

Alberta Lt.-Gov. Salma Lakhani delivers speech from throne focusing on affordability, healthcare reform, jobs and fighting Ottawa

Former Prime Minister Jason Kenney resigns as MLA
Article content
It's a tantalizing exchange between the press and the prime minister, with more stick-handling from the Smith and her attorney sidekick Tyler Shandro than you'd see in a Battle of Alberta.
Smith says Alberta "needs to try something new" and she's convinced the province has Ottawa's attention.
"This is a push," says Smith.
When asked what would happen if the Trudeau mob intervened and deeply undermined the Sovereignty Act, Smith tries to sound optimistic, though her administration says such a move by Ottawa would "create an unprecedented constitutional crisis."
Smith thinks Ottawa is being "re-educated".
But Smith certainly thought Ottawa was going to get ugly.
I covered the fights in Vegas in the '90s and talked to boxer Mike Tyson.
Article content
Yes, I was ringside for Tyson's infamous bite fight with Evander Holyfield.
Anyway, I'm throwing out Tyson's quote, "Everyone has a plan until they get punched in the face."
What's her plan if the FBI knocks out her figment of imagination?
She didn't really give a crystal clear answer.
That was that.
As Smith's handlers tied the knot at the press conference after audio and video errors left hungry news dogs on the line, former Prime Minister Jason Kenney went public with his letter of resignation to immediately split from the legislature.
Kenney didn't pass up the chance to go after the far left and the far right.
As for the far right, Kenney didn't talk about lunatics trying to take over the asylum, but the former prime minister did see the far right as "a vengeful rage and poisonous cynicism that often seeks to tear things down, rather than build and destroy our imperfect improve settings."
On this day, your scribble also asks a question to a respected nose counter who takes a living from Albertans and gets a better picture than Kodak.
Do people now support the Sovereignty Act in the way Smith believes?
No is the answer.
We will see. And now the games begin.
rbel@postmedia.com