Director Liesel Badorrek has reimagined it Carmen for the dramatic location of disused industrial infrastructure on Sydney's Cockatoo Island. She takes the feisty titular character, a seductive cigarette factory worker, and reimagines her.
"It's a story of a woman who wants to be free to live her life without coercion, and a man who desperately wants to coerce her," Badorrek told me this week between final rehearsals for opening night.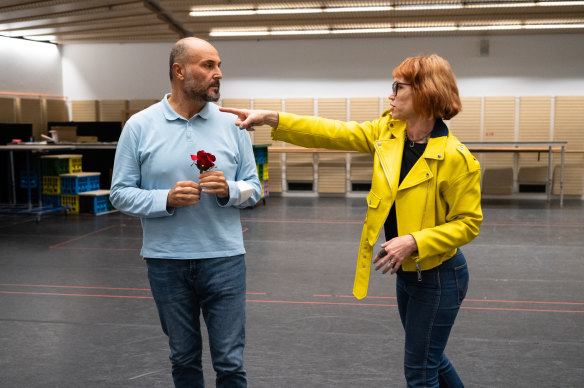 "Carmen is often portrayed as a woman who likes to humiliate and push men, so there's a sense of 'she gets what's in store'. I thought, 'I don't have time for that'. I know a lot of real women who are beautiful and playful and just want to live their lives with freedom of choice.
Spoiler alert: after angering her lover, Carmen eventually dies, as women usually do in opera.
"I want an audience to watch a woman they know, then the tragedy of her death is much more touching," says Badorrek. "I didn't want it to be a crime of passion, like, how romantic!" I just can't bear to watch that again in 2022 for entertainment.
Loading
Badorrek is quick to say that the production is dazzling, with engines and fireworks (not to mention the beautiful backdrop of Sydney Harbour). Her soloists are exquisite, and there's a reason for that Carmen is one of the most popular operas – the songs are bangers.
This is a very important point. We should not be afraid to view classical art forms through a modern lens, especially theatrical ones, which are not fixed. But even sympathetic audiences will find their patience tested by art that elevates its political credentials above its storytelling and its dazzling.
I want to know if a book is good before I want to know if a review finds it, or the author, problematic or not. I can no longer watch Woody Allen movies without discomfort, and I'm a prude when it comes to Michael Jackson's music (which I used to love!), but I got to those positions on my own, with no hint of cultural referees.
This does not mean that art should not deal with political or controversial subjects. On the contrary, that is his job. But the public doesn't want to be patronized, and no one wants to be showered with ideology when they're looking for entertainment.
Loading
Of course, Opera doesn't try to be political, it just wants to move and delight. The problem is the politics imposed on it by a modern audience like my friend and I, who found it impossible to absorb the strong Weinstein vibes of Figaro.
Badorrek, who is by no means a purist, suggests using operatic music for new or different stories.
"Let's face it, no one is going to see operas for the libretto," she says. "But I want that music to live on, because it's magnificent."
It's the storylines that are worrying. As Charlotte Higgins wrote in an essay in The Guardian in 2016, opera is "extravagantly cruel" to its female characters. She lists the opera women and their way of dying: climbing on a funeral pyre (Norma out The Trojans), stabbing himself out of love (Liu in Turandot), self-sacrifice for a faithless lover (Gilda in Rigoletto)… the list goes on. The lucky ones could die from consumption.
Messing with the classics is confronting, because once you think about it, you realize how much art, high and low, is created around the suffering and violent death of women. And opera is the cradle of enormous emotion and great tragedy. How can it exist without fear and death?
That's where artists come in – their job is to reinvent, reinvent and subvert. They just need us, their audience, to take our seats with our minds and hearts open.
Jacqueline Maley is a columnist.
The Opinion Newsletter is a weekly roundup of opinions that will challenge, defend and inform yours. Register here.
More from our award-winning columnists
An Anxious Nation: Mortgage stress, COVID burnout, extreme weather and the cost of living crisis – no wonder Australia's status as the "lifestyle superpower of the world" is under threat – Nick Bryant
The Future of Democracy: Australia must learn from America's slide into extreme inequality, which has led to deep discontent. It also needs to do more to civilize "social" media – the great amplifier of hate Peter Hartcher
Behind the conversation: Shane Warne may have been the greatest bowler legend interviewer and cricket enthusiast Michael Parkinson has ever seen, but he's not his favorite interview – Peter Fitz Simons