"If we can get more consistent, and maybe believe a little more, I think you'll see us beat a lot of teams."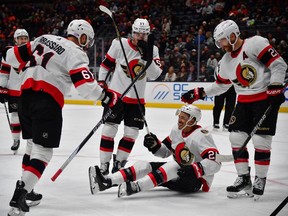 Article content
EL SEGUNDO, Calif. — The Ottawa Senators will bring their act to Hollywood on Sunday night to wrap up a four-game road trip across California and Nevada.
Article content
The Senators reached the quarter mark of their National Hockey League regular season schedule on Friday with a 4-1 victory over the Anaheim Ducks just 45 minutes down the highway in Orange County that allowed them to move out of the basement in the overall standings.
Article content
As they prepare to face off against the Los Angeles Kings at the Crypto.com Arena, the Senators hope Friday's victory over the Ducks can help them achieve some sort of consistency.
Article content
They can still improve in every aspect of the game, but the Senators showed in Anaheim that they are head and shoulders above the worst team in the NHL.
No, the results weren't there in the first 20 games, but Friday's performance confirmed that the Senators should be better than 7-12-1. It had nothing to do with getting lucy breaks but was about total dominance in every category.
Article content
"Anyone can beat anyone in this league," said Senator head coach DJ Smith after a 35-minute skate session at the Toyota Sports Center on Saturday. "Maybe we were a bit down mentally after losing a few games, but there have been some really good teams that we played against and where we had the chances and didn't get the result.
"If we can get more consistent, and maybe believe a little bit more, I think you'll see us beat a lot of teams."
The points the Senators let slip in the first 20 games hurt this the most. Fans are pointing in all directions and demanding changes, but the Senators don't feel like there have been many nights where they've been completely outplayed.
"When you have three more wins, the sky doesn't come down," said Smith. "Then everyone feels good, and we could easily have them, but we don't. So what are we going to do about it? You have to win the next one."
Article content
Every media member likes to look at where a team stands at this point in the season, as the 20 game mark usually falls around Thanksgiving in the US, so there's a lot of sea watching around the Senators.
Those who will tell you that they have all the answers to the club's problems, actually don't. The bottom line is that the Senators need to score more consistently and play better defensively.
They got caught in a lost rut and are now trying to dig out. They need wins so they can feel good about themselves.
"There's that feeling in the dressing room, that feeling on the bus, and they're really young guys. When they win, it's amazing how they feel and how they act," Smith said. puts a lot of pressure on trying to win every day.
Article content
"If things don't go well, that's the biggest challenge. If you win, realize why you won and then do it again. Our team is figuring out how to manage the puck. We learned a lot of valuable lessons early (in the season) when we shot ourselves in the foot, and I thought it would be much better as a leader if we had leads.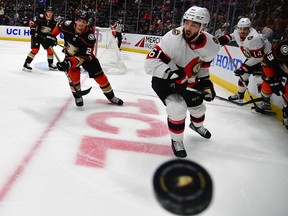 Going into Saturday's series of games, the Senators trailed the Carolina Hurricanes by 10 points for what would be the final playoff wild card spot in the NHL's Eastern Conference. That is a huge mountain to climb and the chances are slim, but there is still time left. They just need to add up some wins.
"There are still 62 games left in the season. It's not at all how we imagined the first 20 would go," Smith said. there are some teams in that group where their expected goals against are at the bottom of the league.
Article content
"Eventually that will level out. All we can do is focus on the next game and try to make this next batch of games count and try to rack up some wins.
This isn't what anyone expected the Senators to see after an off-season full of changes from general manager Pierre Dorion, but Smith doesn't want his players caught up in the negativity surrounding the club.
Instead, Smith was positive about his post
While the Senators added forwards Alex DeBrincat and Claude Giroux and goaltender Cam Talbot in the offseason, they finished 27 points off a playoff spot last spring and knew they couldn't just flip a switch to suddenly challenge.
Smith says the best bet is not to look at the big picture, but to keep the focus every night on playing the right way and giving yourself chances to win.
"We just need consistent wins," said Smith. "If you don't win, answer right away with a great game and don't let it turn into back-to-back losses. You might get a streak and get it the right way.
"The limited number of chances we have given away lately should help. Now we have to throw the puck into the net. When you win, it's amazing what happens."
bgarrioch@postmedia.com
Twitter.com/sungarrioch