NSW Transport Minister David Elliott has called on his former colleague John Barilaro to withdraw from a US trade posting, as scrutiny over the controversial appointment intensifies.
The former NSW deputy premier was earlier this month appointed to the $500,000-a-year-jobwhich he created as trade minister, prompting two separate inquiries and backlash from members of the Perrottet government.
Amid mounting questions about the process leading to the appointment, Trade Minister Stuart Ayres has confirmed Barilaro contacted him to express interest in the job before public advertisements were made late last year.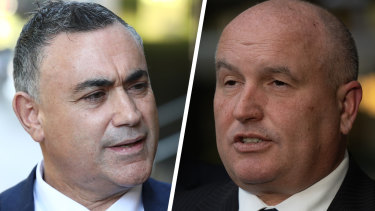 On Thursday morning, Elliott said it was his strong view Barilaro should not be taking up the trade position in New York.
"I expect him to withdraw and do the honourable thing, because quite clearly when you become the story over an appointment, well, then the appointment might not be in the best interest of the people of NSW," Elliott told Sky News.
"I'll let the parliamentary inquiry and the premier's investigation determine that but my very, very strong view is that he shouldn't be going to New York, and I'm pretty sure that that's the view of the majority of people in this state."
Ayres later said pulling out of the three-year posting was "an option for John Barilaro to consider", while conceding he had held concerns the appointment would create "some political contention".
"That's a decision for him," Ayres said on Thursday. "Unfortunately, I do not have the capacity to direct [Investment NSW chief executive] Amy Brown as the employer of this role on what to do.
"I think if I inject myself into that, that would be creating undue influence."