Who will win in this new Battle of Alberta? Who is the master of the Fear Factor?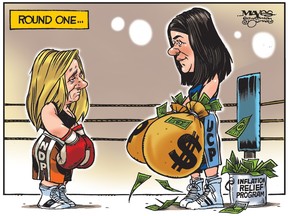 Article content
Has Danielle Smith awakened your deepest fears about Rachel Notley's NDP this week? Did Notley scare the hell out of you about the prospect of four more chaotic years of Smith's UCP?
Article content
If not, it is not due to lack of effort.
Article content
Both Smith and Notley have worked hard, trying to find the right words and slogans to evoke dark fantasies about the opponent's camp, while at the same time working overtime to downplay any alarm about their own party's policies.
Who will win in this new Battle of Alberta? Who is the master of the Fear Factor?
Notley did a fantastic job. The NDP leader has been particularly high for weeks with attacks on Smith over the alleged chaos, privatization and higher costs the prime minister will bring to health care.
"Albertans don't deserve to get cancer," Notley said this week. "If they do, they won't have to raise money to pay for life-saving treatments."
Article content
As economists and social psychologists will tell you, the fear of loss is twice as great as the hope of gain. Whatever healthcare reforms Smith proposes, and however precious our system is and however poorly it performs, Smith will find it difficult to overcome any tinge of fear about losing free healthcare.
But Smith has been ramping up her own offensive game lately, especially by repeatedly rekindling the old perception that Notley's NDP supports dubious and inflationary energy policies that will ruin Alberta's economy.
Ask EJ Anything: Edmonton columnist David Staples answers your questions

David Staples: Death Highway runs through downtown Edmonton. Is there an exit?

David Staples: Prime Minister Smith is trying to reframe himself as flawed but also real and reasonable
"What Will Rachel Notley Play Today?" Smith asked rhetorically on Twitter this week. "1) The liberal 300% NDP increase to the carbon tax is great for affordability. 2) 183,000 Albertans were NOT out of work when she left office as Prime Minister. 3) Socks with sandals are in fashion."
Article content
Smith has also done well to refocus her message on COVID vaccinations to one key point: the NDP's perceived willingness to help Albertans lose their jobs if they refuse vaccination, along with instilling fears of forced medical treatment. As Smith posted, "No Albertan should lose their job, have their child banned from activities, be denied a service, or otherwise discriminated against because they choose not to be vaccinated or stimulated."
Article content
Smith's message may be in line with the current mood. Adult Albertans vote with their arms on the COVID jab, with 3.4 million and 3.1 million respectively getting the first two jabs, but only 1.7 million getting the third and just 830,000 getting the fourth. At least now, every party in Alberta that supports mandates is apparently in an increasingly shaky position.
With rampant fear-mongering on both sides, the NDP and UCP are also focusing on minimizing concerns about their own ideas and policies, as seen in both the UCP's throne speech on Tuesday and the NDP's own alternate throne speech.
To deliver its message, the NDP enlisted three of its most seasoned and reasonable MLAs, Kathleen Ganley, Joe Ceci and Irfan Sabir. In a relaxed, calming way, they addressed the great fear that the UCP continues to raise about the NDP and the economy.
Article content
The NDP is now promising to enlist former ATB senior economist Todd Hirsch to guide their economic plan: "He talks to businesses, workers and economic leaders across Alberta about the best way to rebuild to leverage Alberta's strengths to create jobs and build a more resilient country. economy. We will use his recommendations and your priorities to create a responsible tax plan."
In other words, the NDP is taking a page out of the UCP playbook here and relying on a capitalist banker to talk to oil patch and commercial kingpins about how we can all make some money and government spend less.
Article content
The UCP is following a similar path, ripping slogans and chapters from the NDP's own policy manual.
For example, the Speech from the Throne has a 439-word section on healthcare, which praises front-line doctors and nurses as heroes, condemns inefficiencies and waiting times, and promises better. Am I wrong, or would this part of the speech from the throne have been applauded by Notley at the recent NDP convention?
The UCP's very NDP message in the speech: "Protecting and supporting the most vulnerable among us has and always will be the Alberta Way."
Both sides seem to have realized the same thing, that as powerful as the Fear Factor is on the offensive, it can also destroy a party's electoral hopes if worry becomes the dominant narrative. No surprise, then, that we are now seeing a hard push to the center by both parties, a sharp move toward a cohort of sane and measured independent voters who will decide the outcome of what appears to be a close election in the spring of 2023 .