The primary task for the Walt Disney Imagineers meeting Friday morning (July 1) at Preservation Hall in New Orleans was twofold.
First, they would finally reveal the name of their "Princess and the Frog" version of the Splash Mountain attractions at Disneyland and Walt Disney World.
That name: "Tiana's Bayou Adventure."
Second, they would first announce a tentative opening date, which, assuming all goes according to plan, will be sometime in late 2024.
But for Stella Chase, the daughter of New Orleans culinary icon and real-life 'Princess and the Frog' inspiration Leah Chase, there was another job: to assure her fellow New Orleanians, in her capacity as the culture's unofficial guardians. , that Disney's team is doing well at the city.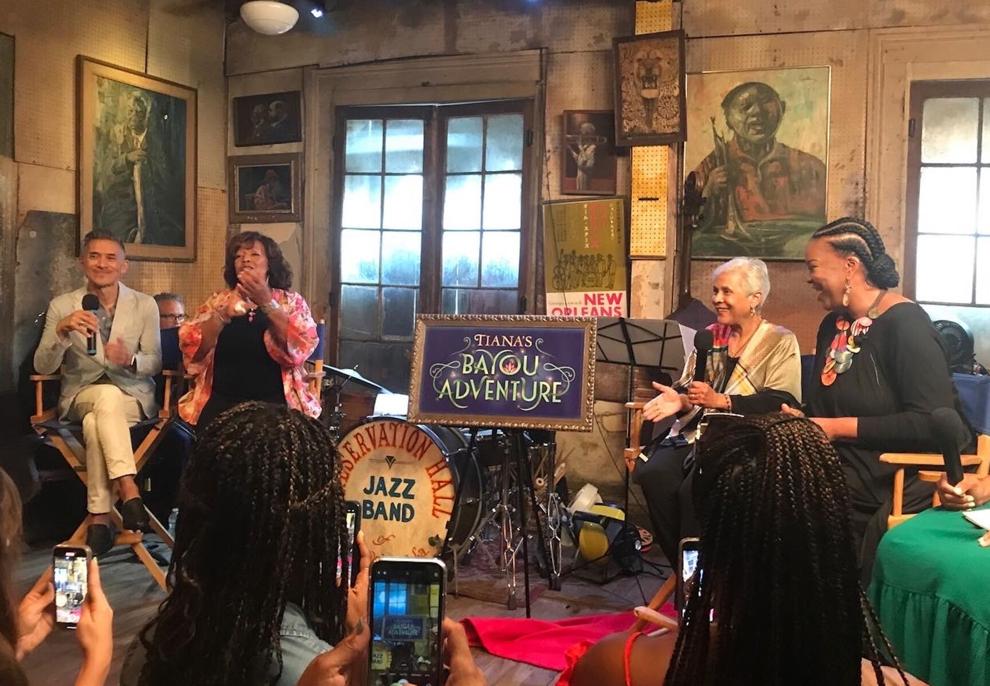 "What they bring you is authentic New Orleans, and I'm here to really testify to that," said Chase, who took part in a panel discussion about the new attraction on the stage of the Preservation Hall.
'Honorary Imagineer'
She would know. Playfully named an "Honorary Imagineer" at Friday's event, Chase has served as an ambassador, advisor and (of course) dinner host for Disney's team during its repeated investigative visits to the city.
"I've seen the Imagineers in the swamps and bayous, watched the alligators swim by our boat, and looked at the details and wrote them down and photographed every detail," she said. "(They) looked at the trees, went down, bent down, took pictures of the plants to make sure every detail is really put into this adventure."
Further details will be announced at Disney's annual D23 fan expo, this year on September 9-11. Until then, here's what we know so far:
Almost exactly two years ago, Disney announced its Tiana-themed reimagining of the Splash Mountain log ride, which is based on the racially problematic 1946 Disney film "Song of the South."
Last August, it shared the first details, revealing that the newly themed ride will be a New Orleans-themed attraction, starting with Princess Tiana inviting guests on an adventure along the bayou and ending with a Mardi Gras party.
Sing a new song
The rail system of the old attraction will remain in place, so the pace of the new attraction will feel the same for fans of Disney parks. But the characters, music and storyline from 'Song of the South' will be replaced by those from 2009's 'Princess and the Frog'.
That includes a new story that continues after the movie ends, as well as a mix of old and new songs.
A closing date for the existing Splash Mountain ride, which opened at Walt Disney World in Disneyland in 1989 and 1992, has yet to be announced.
When the re-theme is complete, Disney Imagineering's Charita Carter said Friday that Tiana's Bayou Adventure will serve as "a love letter" to New Orleans.
In many ways, Friday's event was too. There was a mini second line parade. There were performances by musicians from the extensive Preservation Hall Community, including trumpeter Mark Braud and trombonist Haruka Kikuchi. There was food from Dooky Chase Restaurant.
And Jennifer Lewis
Not to forget that it was a Disney event, there was also a surprise appearance by actress/singer/all-round dynamo Jennifer Lewis, who sang the "Princess and the Frog" song "Dig a Little Deeper", as well as a performance by a costumed actress portraying Tiana herself.
Fittingly timed to coincide with the Essence Music Festival – which prides itself on celebrating "Black girl magic" – Friday's event also saw Disney's creative team redouble its resolve to make Tiana's Bayou Adventure as inclusive as possible an attraction. to make.
To hear Stella Chase tell it, there could hardly be a more fitting way to honor her mother's legacy.
"She was an African American who appreciated being an African American, but she also respected everyone's culture," Chase said. "She was always delighted when people of all colors, all races, from all over the country, visited her in the restaurant. She got the chance to be what she loved to be: an ambassador to New Orleans."
Mike Scott can be reached at moviegoermike@gmail.com.