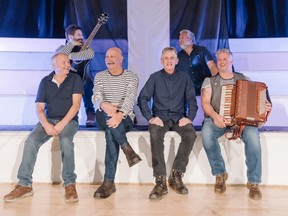 Article content
The Fisherman's Friends were about to get all foggy as they played tourists in Ontario on Saturday.
Article content
The six shanty singers from the small Cornish fishing village of Port Isaac were on their way to see Niagara Falls for the first time before attending the North American debut of Fishermen's friends: the musical at the Royal Alex Theater in Toronto.
Article content
"When we knew we were coming to Toronto, we looked at the map and saw it was close," group member Jon Cleave, better known as "Cleavie," explained after lunch at the Niagara-On-The-Lake pub The Angel Inn.
The group will be in place on Sunday for the musical, which is scheduled to run until January 15 (check mirvish.com for tickets), but will join the cast on stage for the rendition of Cornwall's national anthem, Trelawney.
"We're all really excited about the musical because we love it," says Cleave, who is a writer, runs a shop selling "nauticalia" in Port Isaac and was on the village lifeboat crew in his younger years.
Article content
"It really captures the heart and soul of our group. I think part of the success of what we do is due to us and part of the success is due to the songs themselves. If you enjoy these songs, maybe it's because you're singing along to the words and tunes of your own ancestors."
RECOMMENDED VIDEO
The group's story – only one remains a lobster fisherman – of six friends from Port Isaac who became singing sensations with a gold album, and Glastonbury and Queen's Diamond Jubilee performances, after Universal Music began recording and distributing their songs in 2010, led to a popular 2019 British film, streaming on Netflix in 2020, and a 2022 sequel, Fisherman's Friends One and All.
Adapted from the 2019 screenplay, the musical had its world premiere at The Hall for Cornwall in Truro in October 2021 and embarked on an extensive tour in September 2022.
Article content
"We started in the early 1990s," Cleave said of their humble beginnings. "When we first got together, five of the boys were fishermen. And the rest of us were friends of fishermen."
Oddly enough, they've never toured Canada, but Cleave says they "would love to" with plans to record a new album in the fall.
RECOMMENDED VIDEO
Meanwhile, he realizes they're here as our country anticipates Sunday's FIFA World Cup men's game between Canada and Croatia (11am, TSN) and plans to find a pub and watch it if he can.
"Hopefully we will," he said, stating that he was going to Canada.
"Croatia is a good team. They have a very small midfielder called Luka Modric. He plays for Real Madrid and he is a very good player, but he is very annoying because he is small and he needs to be crushed. Canada will have to play very well playing to beat them, if I'm honest, but with the support of The Fisherman's Friends who knows what could happen."
jstevenson@postmedia.com