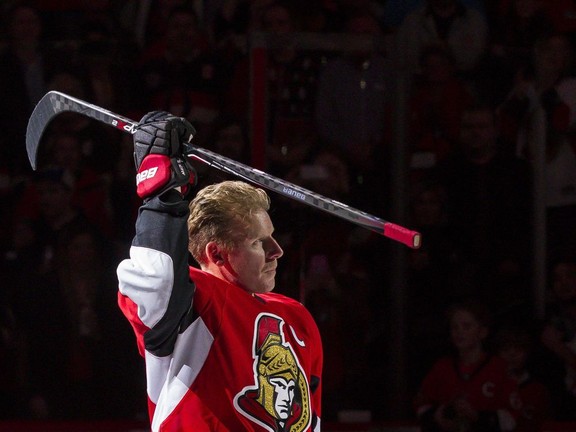 Article content
It's a beautiful day for Daniel Alfredsson.
Article content
The wait is finally over for the former Ottawa Senators captain after he was elected to the Hockey Hall of Fame in his fifth time on the ballot Monday.
The 49-year-old Alfredsson was among the six inductees — five men and one woman — when the class of 2022 was announced by the Hall's chairman of the board, Lanny McDonald, and selection committee chair Mike Gartner Monday afternoon.
Article content
Alfredsson was inducted with Vancouver'a Daniel and Henrik Sedin, fellow countrymen from Sweden, along with goaltender Roberto Luongo. Herb Carnegie was elected in the Builders' Category while Riikka Sallinen of Finland was the only female player inducted.
Though many wondered if this day would ever come, Alfredsson, who was the captain of the Senators for the 13 seasons, is the first player in the modern history of franchise to have his number (11) retired and also get inducted into the Hall of Fame.
Social media erupted with the news he'd been elected after a grassroots campaign to get Alfredsson into the HHOF started earlier this month. He's the first player to have spent the majority of his career with the Senators to get inducted into the Hall.
"It's such an honour and such a privilege to be able to play this sport for living. It's something I would have played for my life without question," Alfredsson said Monday on a conference call with reporters. "To be able to make a living, to play in front of thousands of fans and also to be recognized is truly humbling.
Article content
"It's really special with the support that I've had from Ottawa throughout my career right up to this day. I know that they've been really big supporters of mine to help me get into the Hall of Fame. They're behind me all the way and it goes both ways. It's a really great honour and special day."
Alfredsson returned to his home in Sweden for the summer and didn't think the call was going to come because it was after 8 p.m. local time when the phone rang. His wife, Bibbi, took the call and asked who was on the other line, Alfredsson recounted with a laugh.
Told by McDonald and Gartner about his induction in a phone call shown on TSN, Alfredsson joked: "I thought it was my insurance company calling."
He was kidding and his appreciation for his induction was no laughing matter.
Article content
"I actually thought I wasn't going to get the call and it wasn't going to happen this year," Alfredsson said. "(Bibbi) answered the phone and asked who was calling, it was a very pleasant surprise.
"It's a super-bonus. We play our career, we do the best we can and we're professionals. We take pride in what we do, but when you hang them up, you hang them up. You can't control what happens after that. If it happens, it happens, and if it doesn't, it doesn't."
Up until Monday, Alfredsson hadn't been able to get the 75 per cent support needed from the 18-member committee to get over the top.
Alfredsson finished his career with 444 goals, 713 assists and 1,157 points in 1,246 NHL games while he also added another 100 points (51-49) in 121 playoff games with Ottawa. His numbers in the regular season place him 55th amongst all-time NHL scorers.
Article content
The key to Alfredsson's success was his ability to play at both ends of the ice. His 444 goals rank him 65th in NHL history. He's ranked No. 2 in that category among Swedish players, behind former Toronto Maple Leafs captain Mats Sundin, who had 564 goals in 1,264 games.
Named the club's captain in 1999, Alfredsson suited up for 1,178 games with the Senators before signing with the Detroit Red Wings to close out his career. He never won a Cup, and some believed that might have been what was holding him back, but that no longer matters.
Selected No. 133 overall in the sixth round by the late John Ferguson Sr., Alfredsson also had an incredible career overseas and was named to the IIHF Hall of Fame in 2018. He suited up for Sweden at the Olympics five times and helped lead the country to gold in 2006 at Turin, Italy.
Article content
He helped lead the Senators to the Stanley Cup final in 2007 against the Anaheim Ducks. Alfredsson had a flare for the dramatic and scored the OT winner in Game 5 against the Buffalo Sabres of the East final to book Ottawa's trip to the final.
"Daniel exemplifies everything that it means to be an Ottawa Senator," Anthony LeBlanc, the club's president of business operations said in a statement. "A champion and leader both on and off of the ice, Alfie has left a legacy on this team and city which will last forever.
"On behalf of the Senators organization, congratulations to the greatest Senator of all time on being named to the Hockey Hall of Fame."
Alfredsson will join former Senators winger Marian Hossa, who was inducted in 2020, and one-time Ottawa goalie Dominik Hasek in the Hall. Former Senators assistant Roger Neilson, who passed away from cancer in 2003, was inducted in the Builders Category in 2002.
This was the first time in three years the committee met in person.
The Hockey Hall of Fame weekend is set for Nov. 11 in Toronto and the induction ceremony will be held Nov. 14.
Twitter: @sungarrioch