Rod and Eric Houk have a family connection with the University of Regina Cougars men's hockey team.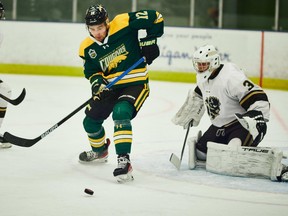 Article content
Eric and Rod Houk are together, but separately, on the University of Regina Cougars men's hockey team.
Article content
Eric is a freshman forward at Cougars, his hometown. His father, Rod, is the team's goalkeeping coach.
Article content
"We talk about the games when we get home," said Eric Houk. "Before training he is usually on the ice with the keepers. By the time his 15 or 20 minutes are up with the goalies, he'll go to the Regina Pat Canadians or the Rebels. He doesn't come out all training, but if I can help him by shooting at the goalkeepers before training, then I will."
Rod's presence is one of the reasons Eric joined the Cougars after a junior hockey career that included stops with the WHL's Swift Current Broncos (2018-21) and the SJHL's Estevan Bruins (2021-22).
"The main reason was that I was away from home for four years," said Eric. "It's not that I didn't enjoy those years because I got to know two great bat families in Swift Current and Estevan. It made the most sense to me because both my parents (Rod and Tracy) went to the U of R and my sister (Aubrie) went there. Many of my friends were also recruited into the U of R and it was just the easiest balance between hockey, school and living at home.
Article content
Rod enjoyed having 21-year-old Eric at home while he attended college.
"He always had it in the back of his mind that when his youth hockey career was over, he would want to play U Sports hockey," said Rod. "He got a few calls from other schools, but he's been away from home since he was 17 and it was a good opportunity to come home. He takes cases and Regina has a really good business program.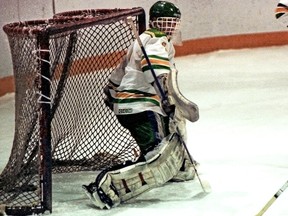 The family's ties to the U of R hockey program are longstanding. Rod was a goaltender for the Cougars during the 1986-87, 1989-90, and 1990-91 seasons. He spent 1987-88 and 1988-89 with Regina Pats of the WHL.
Canada West's Hockey Player of the Year in 1990, Rod was inducted into the University of Regina Sports Hall of Fame in 2000.
Article content
"I heard from people who played with him that he was a great goalkeeper," said Eric. "He had an interesting path in that he went to the Cougars, then to the Pats and back to the Cougars, which would be unheard of in today's hockey. It's cool that he was a big part of those teams."
Eric spent two seasons with the Pat Canadians before joining the Broncos. He recorded 12 goals and six assists in 134 regular season games with Swift Current.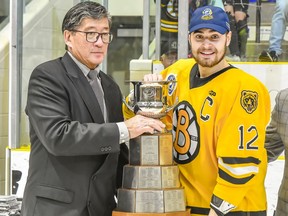 He found a scoring connection with the Bruins, recording 18 goals and 28 assists in 55 regular season games. He recorded three goals and 10 assists in 16 games during the Bruins' playoff run to the 2021–22 SJHL Championship. He added four goals and one assist as the Bruins finished with a 1–4 host team record for the 2022 Centennial Cup.
Article content
"The playoff run was like a storybook run that ended with Game 7 at home, so that was definitely a cool experience," said Eric. "I'm really happy with how the year went – apart from the Centennial Cup, which wasn't ideal."
Eric has yet to display similar scoring prowess with the Cougars, for whom he has one assist in 13 games.
"Last year I had a lot of chances and we scored a lot of goals as a team," said Eric. "If you look at our team this year, I would like to play more attacking. If I keep doing the little things right, hopefully a few more will come my way."
The Cougars have struggled during the current Canada West campaign. Heading into a Friday/Saturday doubleheader against the UBC Thunderbirds at the Co-operators Center, the Cougars are eighth (3-10-0-0-1-0) in the nine-team conference. The Thunderbirds (8-6-0-0-1-1) are fifth.
Article content
"I think it's taken us a while to find our identity and now we're kind of getting there," Eric said. "We're going to need a big push in the second half if we're to have a shot at a playoff berth."
mmccormick@postmedia.com
The world of sports is constantly changing, as are the times. Supplement your regular diet of sports coverage by subscribing to the Regina Leader Posts 306 Sports fix newsletter. Each week, Sports Editor Rob Vanstone will provide additional commentary on the Roughriders, Pats and other teams/sports of interest, along with a behind-the-scenes look. Click here to subscribe.
University of Regina Cougars continue to top the U Sports rankings

Julia Vydrova is a good fit for the Cougars women's basketball team