According to Angus Reid polls, Prime Minister Scott Moe is one of the most popular prime ministers in Canada, behind Francois Legault of Quebec.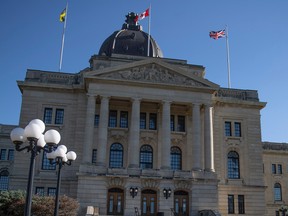 Article content
This week, CBC Saskatchewan's Adam Hunter joins Murray Mandryk and Jeremy Simes on Inside the Marble Palace.
Article content
They summarized the stories that developed during the fall session of the Saskatchewan legislature.
Article content
Some of the news items that made headlines included the creation of a new marshals service, $500 pay checks, an appearance by former MLA and convicted murderer Colin Thatcher at the Speech from the Throne.
They also talk about consuming alcohol in public parks and Saskatchewan's aspirations of its own tax agency.
Read the latest news:
Analysis: a Sask. autumn session of surprises overshadowed major problems
'Clown show' barbs mark Sask's penultimate day. legislative assembly
Legislation to change pot sales and First Nations law enforcement
Sask. expects to be short of 2,000 healthcare personnel in the next five years: auditor
Regina woman lost house after landlord defaulted on mortgage
Inside the Marble Palace sums up Sask. politics during the autumn session

Sask. still in honeymoon phase with $500 checks (Inside the Marble Palace)
The news seems to be coming at us faster and faster. From COVID-19 updates to politics and crime and everything in between, it can be hard to keep up. With that in mind, the Regina Leader-Post has a Afternoon headlines newsletter that can be delivered to your inbox daily to ensure you're up to date with the most important news of the day. Click here to subscribe.