American soccer player Tyler Adams was plagued by a few questions from an Iranian journalist ahead of Tuesday's crucial game between the United States and Iran at the 2022 World Cup. One was about his statement of "Iran" and the other was about the fact that he was a black man representing the US
Press TV's Milad Javanmardi pointed out how Adams pronounces Iran's name.
"First of all, you say you support the Iranian people, but you mispronounce the name of our country," Javanmardi said. Our country has a name ur·onnot eye ran. Please let's get this straight once and for all."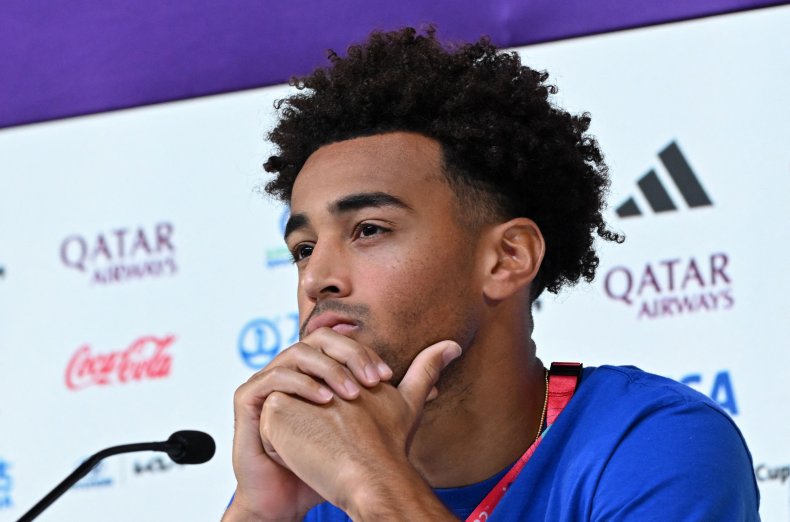 Javanmardi then questioned whether Adams, a 23-year-old black man who was raised by a white family, feels comfortable representing "a country that has so much discrimination against black people in its own borders."
"We have seen the Black Lives Matter movement in recent years. Are you okay with representing the US meanwhile there is so much discrimination happening against black people in America," said Javanmardi at the Qatar National Convention Center in Dohar.
Adams, a midfielder for the United States, calmly and brilliantly addressed the issue of ruling and discrimination.
He apologized for the mispronunciation and immediately moved on to the other question.
"You know, there's discrimination everywhere," Adams said. "One thing I've learned, especially from living abroad over the past few years and having to fit in and assimilate into different cultures, is that in the U.S. we continue to make progress every day."
"You know, when I grew up for me, I grew up in a white family with obviously African American heritage and background as well," said Adams. "So I had a little bit of different cultures and I was very, very easily able to assimilate into different cultures. So, you know, not everybody has that, that ease and the ability to do that. And of course it takes longer to understand and through education, I think it's super important. Like you just taught me about your country's pronunciation."
The game between the United States and Iran on Tuesday is the final round of Group B. The United States, who drew both Wales (1-1) and England (0-0), need a win to advance to the knockout round of 16 teams. A loss or draw against Iran would send the Americans home.
The last time Iran and the US played at the World Cup was in France in 1998. The heavily favored Americans lost 2-1 to the underdog Iranians.
The US and Iran will begin at 2 p.m. ET on Tuesday. The game will be broadcast on Fox.
This is the first time the US has participated in the World Cup since 2014. They failed to qualify for the 2018 World Cup.