The NSW government's controversial rail corporation is splashing $1 million a year on plush new offices in a Sydney CBD high-rise for several dozen staff after turning its back on rent-free space in a building it owns near Central Station.
Confidential documents seen by the Herald show the Transport Asset Holding Entity (TAHE) picked the second-most expensive offices of eight buildings considered during a search early this year for new headquarters.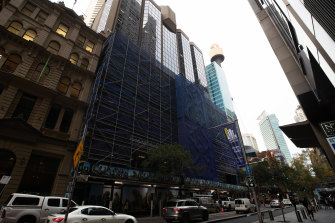 The cheapest offices were less than half the cost of those it eventually chose in a tower next to Pitt Street Mall, one of Sydney's most expensive locations for commercial space.
The rail corporation has been the subject of intense criticism and a parliamentary inquiry since a Herald investigation last year revealed it had been set up to artificially inflate the NSW budget.
TAHE board papers show management sought approval in late January for $3 million for a "new three-year lease, inclusive of relocation and set-up costs".
Management was eager to shift out of offices that TAHE owned next to Central Station to the 15th floor of the tower at 130 Pitt Street. One of the criteria TAHE used for finding new offices was the need for a "space where a positive culture will flourish, already fitted out for our needs".
The cost of the lease entered into in February was $2.7 million for the next three years, while fitting out the new offices amounted to $764,000.
The push for new CBD offices came despite the corporation owning the state's valuable rail assets, including $4.6 billion worth of buildings.
Management argued that new offices were needed because it expected the workforce to grow from 24 to 40 staff by June this year. "TAHE needs a space that is suitable for 40 now and has growth potential," the board papers say.