North Bay's Macrina Perron reflects on triumphs, challenges of those fighting CF during a trip to Iceland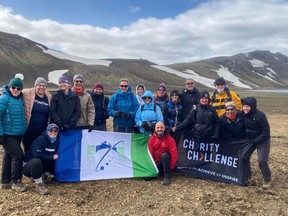 Article content
It was some anniversary for Macrina Perron.
Article content
The North Bay native arrived in Iceland in mid-June as part of a Cystic Fibrosis of Canada tour for those who raised a significant amount of money for the cause.
Perron says the trip was "amazing," but her mind was also on those still suffering from CF.
Her June 18 arrival on that island coincided with the first anniversary of the approval of Trikafta, a medication that has had remarkable results for CF patients.
Perron's son and daughter have dealt with cystic fibrosis since they were small, and Perron says Trikafta has changed their lives.
Perron says she wishes everyone could have access to the medication.
"My kids are both on it because my private insurance through my employers pays for it. A lot of parents, a lot of people, once they have reached this point in the journey say 'I am going to pass the torch; I have done my part.' I have this stark reality around me in North Bay that there are families here that do not have access to this medication."
Perron adds that many families must deal with restrictions that may deny them the chance to get Trikafta or other needed drugs.
"There are families that can't get medication because their kids aren't old enough, are not sick enough. They don't qualify under the provincial health mandates."
It's remarkable to Perron that children have to be at a certain level of illness to qualify for some medications.
"It's so frustrating, because a doctor would never say 'You have stage-one breast cancer – let's reconvene when you get to stage three and do what we can do to help you.'"
Article content
So, Perron is happy with her situation, but others need help.
"We're not all there and we have a lot of work to do. Trikafta speaks to 90 percent of CF patients but there are people in North Bay who are in the 10 percent (and do not qualify). We have families in North Bay who have lost children to cystic fibrosis, and we need to honour those families."
Despite the good news for her children regarding their CF status, Perron plans to press on.
"I'm still heavily involved in the advocacy piece. In the next week or so the province is about to release information about what the provinces can do about this medication, in terms of funding it, without restrictions – taking away that threshold of wellness, to access the medication.
"So, in the next couple of weeks, we are anticipating that The Canadian Agency for Drug and Health Technology will recommend the provinces reimburse this medication for people 12 and up, with no minimum baseline of health."
If that occurs, Perron plans a talk with Nipissing MPP Vic Fedeli to tell him "It's go time."