"They feel reborn by the youth movement and how much energy and excitement they bring to the game."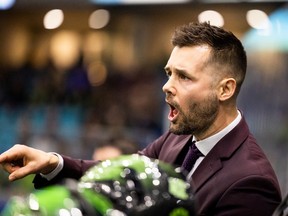 Article content
A "rejuvenated" Saskatchewan Rush team is ready to hit the floor and kick off the new National Lacrosse League campaign.
Article content
The Rush will open the season at home Saturday against the Colorado Mammoth (7:30 p.m., SaskTel Center) with a team that its head coach-associate general manager promises will be "soon."
Article content
Rush head coach general manager Jimmy Quinlan said the team is trying to recover from a disappointing 2021-22 season in which the Rush missed the playoffs.
"We've got a lot of youth and with that youth comes a lot of energy and excitement so we're going to try and play an up-tempo style of play just like we had in the past but you can just tell there's a little bit of rejuvenation coming from some of those young guys who are excited to get into the league and show what they've got," Quinlan said.
The youth movement includes 2021 NLL first round draft picks Ryan Barnable and Jake Boudreau, along with 2022 picks Austin Madronic, Isaac Ngyou and Jeremy Searle. Other new arrivals include goalkeeper Alex Buque, plus defenders Wyatt Haux and Jerrett Smith.
Article content
Barnable, Ngyou and Mike Mallory will start the season on injured reserve, while Searle, Haux and Saskatchewan goaltender Laine Hruska have been placed on the practice roster.
Buque and veteran Eric Penney have emerged from a tight goaltending battle on the active roster. Former high draft pick Cameron Dunkerley was released.
"We're excited," Quinlan said. "Again, for us it's really coaching those guys and getting them up to speed and putting them in the best possible position, but for the fans in Saskatchewan, they can expect a team that goes after it right after the opening whistle." ."
Saskatchewan finished the preseason with a perfect 3-0 record thanks to a 9-8 overtime win over the Calgary Roughnecks in Calgary over the weekend.
Article content
Quinlan said he, Jeremy Tallevi and Cam Sedgwick entered the season with a plan and that the team is doing a good job implementing systems as he was learning some of the previous nuances and intricacies of those systems.
"I quite like where we are now," Quinlan added.
"We were quite impressed with how we executed it in our first exhibition game. Aside from the result, we just like that some of those finer details that we ask of the guys we executed well.
PLAYERS TO WATCH
Quinlan and the coaching staff are excited to see three former first division players in action. Although Boudreau and Barnable were drafted in 2021, they had returned for a super senior year in the NCAA ranks. Both boys "are as advertised," he said.
Article content
"They're both phenomenal athletes," Quinlan added. "They have incredible foot and stick skills in transition, so I think the fans in Saskatchewan will enjoy seeing them pin the defensive end and then contribute to the transition.
"Austin Madronic, the young player we fielded in the first round this year, has an incredible IQ, is very coachable, very athletic and likes to get to the tough areas and do all the little things. He's a man who we think will impact the game whether he throws balls into the net or not You can't have enough of those guys because at the end of the day they're the glue guys who make the attack succeed.
YOUTH MOVEMENT
The Rush will feature a new-look defensive corps, with former Captain Chris Corbeil signing as a free agent at the Toronto Rock and Jeff Cornwall moving on to the Roughnecks.
Article content
It is generally a young team.
"If you look at our lineup, probably half of our roster is freshman or sophomore players in the league," said Quinlan.
"We're excited about that because we believe they can play and they're showing us they can. In conversations with some of our veterans, one of the most important things they've said is that they feel like they've been rejuvenated by the youth movement and how much energy and excitement they bring to the game. So for us, we feel very lucky, but at the same time, we feel excited because every time you get those veteran guys who are now excited to be back on the floor, your game just goes up.
dzary@postmedia.com
Rush through the crowded goalkeeper crease

Free goalkeeper Buque signs with Rush

Rush team says goodbye to Captain Corbeil
The news seems to be coming at us faster and faster. From COVID-19 updates to politics and crime and everything in between, it can be hard to keep up. With that in mind, the Saskatoon StarPhoenix has a Afternoon headlines newsletter that can be delivered to your inbox daily to ensure you're up to date with the most important news of the day. Click here to subscribe.