Marine worms known as the termites of the sea attack what is believed to be the wreck of Captain James Cook's flagship, the HMB Endeavour, leaving the wood behind like a honeycomb, a marine biologist said.
Marine invertebrate expert Reuben Shipway, based in the United Kingdom, noticed the damage as soon as he dove on the remains of the wreck in the murky bottom of Newport harbour. The Boston Globe reports.
Shipworms had ripped through the wood and carved a labyrinth of tunnels, leaving behind what looked like a honeycomb.
Shipway said the exposed chunks of wood on the harbor floor were eaten from the inside by a species known as… marine grinding, or shipworm. "That damage is ongoing," he said. "The guts of the shipworms are full of wood."
He said damage was also done from the outside and that he had found evidence that a species of crustacean called gribbles had been eating in the forest. According to the report, an estimated 10 to 15 percent of the ship that may belong to Endeavor will remain.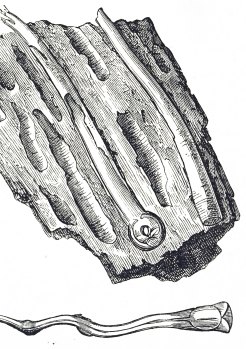 The report is the latest installment in a feud between the Australian National Maritime Museum and its research partner, the Rhode Island Maritime Archeology Project. In February, Kevin Sumption, the museum's then director, said the wreck had been positively identified as the Endeavour. But the project's lead researcher, Kathy Abbass, immediately dismissed the claim as a "breach of contract" and "premature".
She said the jury was still out and their conclusions would be determined by proper scientific process rather than "Australian emotions or politics". She is expected to publish her findings soon, possibly this month.
Daryl Karp, the museum's new director and chief executive, told the Herald last month, the museum was now even more confident that the wreck was the Endeavor.