More than 40 people have been found dead inside a truck carrying migrants near San Antonio in the United States.
Key points:
The San Antonio Fire Department says 46 bodies were found in the truck
The fire department chief says 16 others were taken to hospital with heat-related injuries
Three people have been taken into custody
The Texas Governor said 42 people were found dead, while San Antonio Fire Department Chief Charles Hood later put the number of bodies at 46.
Mr Hood said 16 others, including 12 adults and four children, were taken to hospitals in the area.
There were reportedly no signs of water in the truck and the temperature in San Antonio reached 39.4 degrees Celsius on Monday night.
All of those transported were allegedly hot to the touch and suffering from exhaustion and heat-related injuries, Mr Hood said.
Mr Hood said officials who responded to the incident saw "a stack of bodies" but there were no children among the dead.
The San Antonio Police department said three people were in custody over the incident, which was being treated as a federal investigation.
The truck was found next to railroad tracks in a remote area on the city's southern outskirts, local media reported.
'Tragedy in Texas'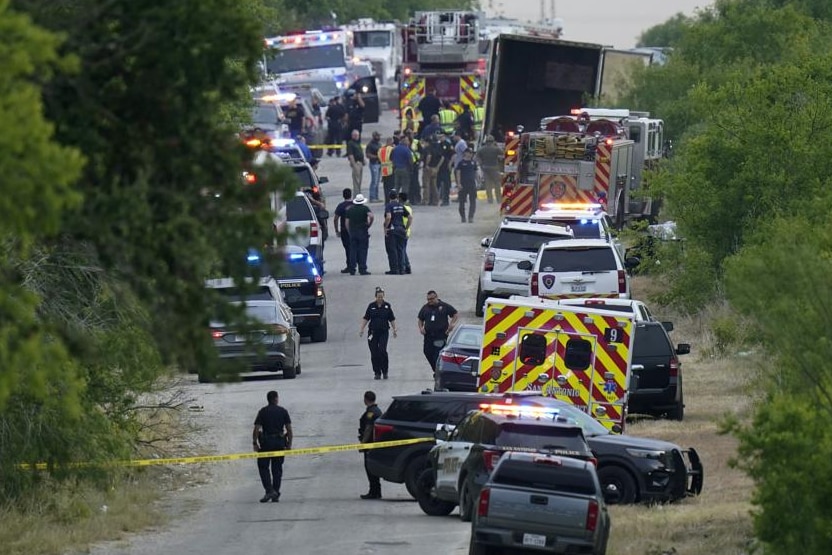 Photos posted to Twitter by a local reporter showed police vehicles and ambulances surrounding a large truck.
Mexico's Foreign Minister Marcelo Ebrard called the deaths the "tragedy in Texas".
He said local consulate staff were travelling to the scene, but the nationalities of the victims were yet to be confirmed.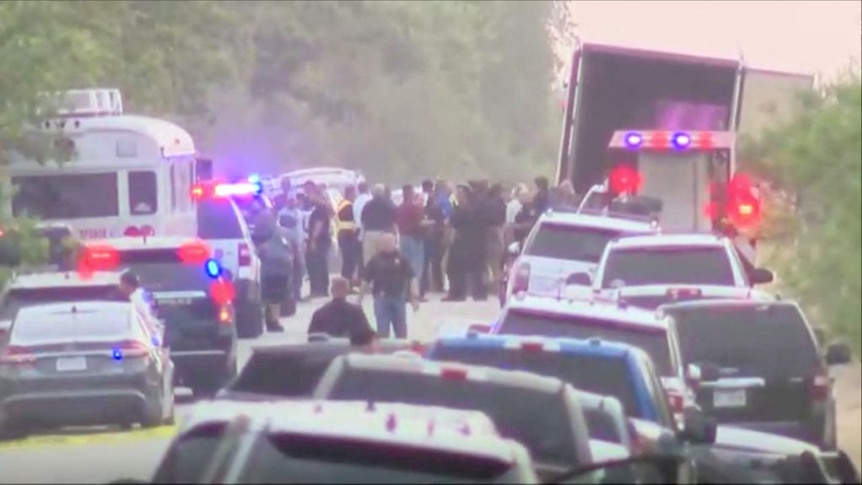 Migrants 'pushed into more dangerous routes'
American Immigration Council policy director Aaron Reichlin-Melnick he had been "dreading" a tragedy like this occurring for months.
"With the border shut as tightly as it is today for migrants from Mexico, Guatemala, Honduras and El Salvador, people have been pushed into more and more dangerous routes," he said.
"Truck smuggling is a way up.
Loading
In July 2017, the bodies of 10 migrants were found in a truck in a car park in San Antonio.
The man driving the truck was sentenced to life in prison for his part in the smuggling operation.
Recent migrant crossings at the US-Mexico border in recent months have sparked criticism of US President Joe Biden's immigration policies.
Republican Governor Greg Abbott took to Twitter to blame Mr Biden for the latest tragedy.
"[The deaths] are a result of his deadly open border policies," he said.
Posted , updated