Two men have been charged with recklessly driving an unregistered car at 119 kilometres an hour while one lay on the bonnet drinking and giving the middle finger to a speed camera.
At 2.20am on October 23 last year, a fixed speed camera in Gabbadah, about an hour north of Perth, allegedly caught the pair in a Ford utility driving well over the 100 kilometre per hour limit.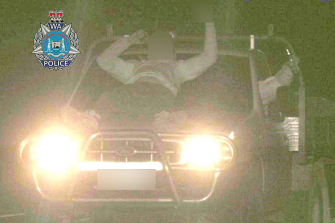 A police statement alleged a man was pictured laying on the bonnet of the vehicle, "holding a bottle in one hand, and gesticulating towards the speed camera with the middle finger of his other hand".
Traffic investigations officers have now charged the two men.
The alleged driver, a 23-year-old man from Gabbadah, has been charged with reckless driving, drove, caused or permitted a vehicle with a forged, replica or false plate to be driven on a road, and using an unlicensed vehicle.
A 31-year-old man from Guilderton, alleged to be the man on the bonnet of the vehicle, has been charged with reckless driving.
Both men will appear in Joondalup Magistrates Court on Friday.
Follow WAtoday on Instagram, LinkedIn, Facebook and Twitter for handpicked selections of the day's biggest local, national and international news.