Several viral videos showed a large crocodile attacking a child and dragging him underwater, despite the father fighting the reptile to save his son, authorities said.
The incident happened Thursday morning near a river in Lahad Datu in Malaysia's Tawau division of Sabah, where the father and his son were fishing in a canoe when they were attacked, Yahoo News Australia reported.
The father, identified as Moherat by Asian-American news website NextShark, reportedly tried to fight off the 10-foot-tall crocodile, which then quickly disappeared underwater with his 1-year-old son in his jaws.
"Despite the man's best efforts, he ended up with numerous bite marks and was unable to prevent his son from being dragged under the water," said Sumsoa Rashid, head of the Lahad Datu Fire and Rescue Agency. "There are several viral videos showing how the victim was attacked by the crocodile and then grabbed before being dragged to a nearby river."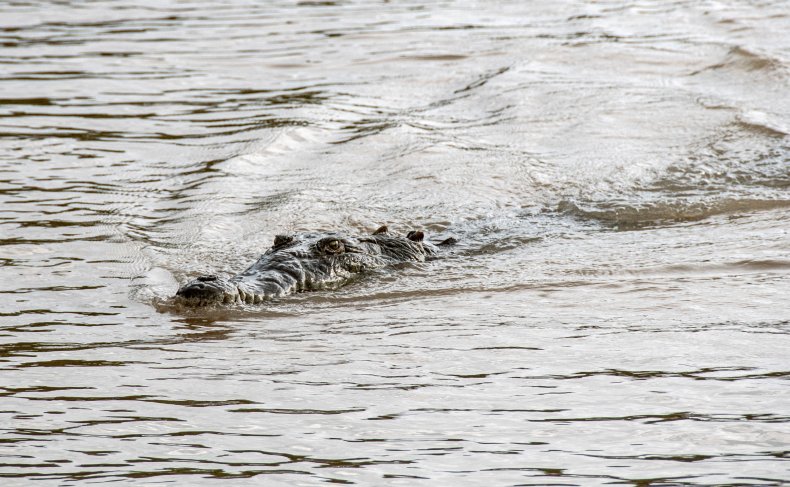 Rashid added that Moherat has been taken to a hospital to treat his injuries, including bite marks and a deep wound to his head, which he suffered while trying to stop the crocodile.
"The father suffered serious injuries to his head and body. His son is still missing and searches are ongoing," said Rashih. Daily mail. Villagers were able to rescue the father, a Palauh tribesman who is said to be in his 40s.
A video circulating online showed the crocodile appearing at the surface of the water with the boy's body caught in its jaws. The Royal Malaysian Police and the local fire service have been trying to locate the child's remains, while officials warned villagers living near the river to stay out of the water as the crocodile has not yet been captured.
"Many residents there depend on the river for their food and livelihood, so they have to go into the water," said Rashid, the Daily mail reported. "We have warned them of the additional dangers at this time and to be extra careful as the crocodile is likely still in the area."
Crocodiles, known as ferocious creatures with strong jaws and 80 razor-sharp teeth, often attack humans in areas where they are native. About 1,000 people are killed by crocodiles each year, according to the animal encyclopedia AZ Animals and CrocBITE, a database of global crocodile attacks. However, it is difficult to document the exact number of crocodile attacks per year, as some of them occur in remote areas and go unreported.
In August, a video circulated online showing a huge crocodile swimming in a lagoon with the body of a dead man in its jaws. Passersby who saw the reptile alerted authorities after seeing the body of the 25-year-old man, who had been snatched by the crocodile after entering the lagoon.
According to police, the man allegedly ignored signs at the park warning people against swimming in the water.
News Week contacted the Royal Malaysian Police for comment.