While helping set up a stall at a local market on Saturday, a brief downpour came through; not enough to dampen the spirits, but certainly enough to cause panic.
One of the stallholders checked the weather app on his phone and ran from one stall to the next to show us all that this particular rainstorm (which was now receding) was off the radar. Checked the other exhibitors their weather apps and surprise, surprise, the rain hadn't appeared on theirs either.
How on earth can this be? A long discussion with stallholders ensued as to why no one knew about this downpour (which had now stopped). It was a conversation I wanted to join so I could say that the short shower had appeared on my radar because I had looked up to the sky five minutes before it arrived. But I chose to keep schtum because all kinds of nasty things can happen if you sideline exhibitors.
When did this addiction to weather control start? I have friends who spend hours looking at the Bureau of Meteorology radar. They seem tense. They will call me to tell me that there is heavy rain in the west and that there is a 15 percent chance of it coming our way. I'm not in a flood prone area so I'm not sure what to do with this information? Collecting pairs of animals from the surrounding suburbs so we have a gene pool to work with?
And the wording around the weather has changed. Today there is no such thing as just "the weather", it is called a "weather event" or a "weather alert". And we don't seem to get heavy showers anymore. Instead, a rain is on the way! Of course we've had some pretty dramatic weather in recent years and I'm happy to put floods, cyclones and hail the size of something you could play sports with in the 'weather event' basket, but a little shower in the Hawkesbury is no 'weather event'. Nor is it news that we should be told and we need no warning about it.
I can't help but think these carefully chosen words – event, breaking news and alert – are just that – carefully chosen words to fuel our already heightened post-pandemic anxiety. Throw in another "breaking news alert about a weather event" and let's watch everyone scramble to their weather apps to check the forecast.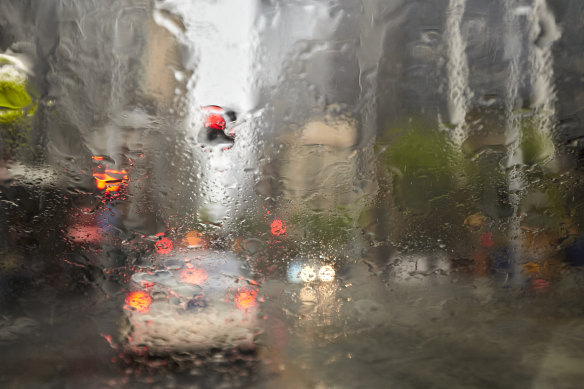 Some might say scrolling through the weather along the East Coast is a form of meditation? I do not agree. Judging by the looks on the faces of the stallholders when a passing storm crept under the radar, it's worrying. There they were – they all looked at their phones and told each other it was raining and predicted how long the shower would last. None of them were right, of course. One lady said it "would take an hour and a half and there was nothing behind it", making the transient shower sound like someone (or someone) was trying to sneak something (or someone) into their bedroom.
Speaking of the weather, my oldest daughter's christening was held on a sweltering hot day in February. An uncomfortably hot day. Everyone was dripping with sweat. Babies were restless. New parents were exhausted. The salads wilted. The toddlers started to scream. The elderly priest's freshly dyed hair ran – Rudy Giuliani style – in huge black drops on his forehead.